BROTHERHOOD, Novel: Release date 7th February 2019 – Available on Amazon, click on the title or cover for a link.
Publisher Sapere Books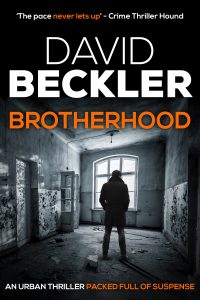 When Byron Mason's estranged nephew, Philip, rings him out of the blue in desperate need of help, he knows he must put his personal feelings aside to protect his family.
A teenage boy has been murdered, and Philip is one of the suspects.
Worse than that, the dead boy was the nephew of Ritchie McLaughlin – a local thug who Byron has clashed with in the past – and Philip has now gone missing.
Desperate to clear Philip's name, Byron enlists the help of his old friend Adam Sterling to track down the real killers.
Is Philip in danger? Can Byron and Adam find him before the police do? 
Or has Byron's violent past with McLaughlin come back to haunt him…?
Reviews:
'A powerful and violent first chapter precedes a superb opening 100 pages, the best I've read this year. And the pace never lets up in this cat and mouse thriller, evocatively set amid Manchester's threatening underworld.' – Crime Thriller Hound
'a dark portrayal of the effects of violence on young minds' – Murder, Mayhem and More
FORGED IN FLAMES, Novella: Release date 20 December 2018 – Available  on Amazon and getting great reviews, click on the title or cover for a link.
Publisher Long Stop Books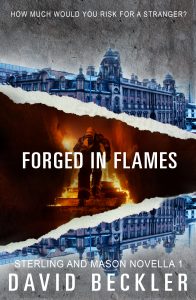 How much would you risk for a stranger?
Firefighter Adam Sterling is working hard to be accepted by his new colleagues when he and the firefighters of Blue Watch rescue Kim, the target of an arsonist. Adam is struck by her resemblance to someone from his past and sees an opportunity to repay an old debt.
Kim is in witness protection, but who is hunting her and why? Even the police officer investigating the fire, DS Eddy Arkwright, can't find a way through the maze of secrets.
Adam has to battle not only his natural enemy, fire, but an implacable foe determined to get his prey. He must use all his firefighting skills, and a few old tricks from his time in the Royal Marines, if he is to prevail.
THE MONEY TRAP, Novella: Available on Amazon and on Kindle Unlimited. Currently no 2 on Hot New Releases.
Publisher Long Stop Books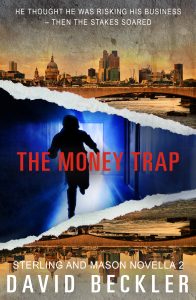 He thought he was risking his business – then the stakes soared
Ex-Royal Marine Byron Mason is used to fighting for survival, but when he comes up against Gideon Metzler, a ruthless financier, he's out of his comfort zone. He's building a successful business to support his growing family and stretches his resources to land a big contract. When Metzler puts pressure on him, he worries if he's made the right decision. But these opportunities don't come along every day.
After a series of misfortunes, he finds himself fighting for the future of his business. He has to dust off old skills whilst trying to master those he needs to survive in a new environment he discovers is as ruthless as any he's encountered.
Alongside Adam Sterling, an old comrade, he begins the fightback. But, outnumbered and outgunned, will the two of them survive against a determined enemy?  Then Metzler makes an offer which will make his problems disappear. He has to choose between the safety of his family and doing the right thing.